It's been over a year since I tried
Bountiful Baskets.
The last time I ordered a basket, I didn't plan well so some food went to waste. I happened to get several vegetables that I didn't have much experience working with and just ended up not eating them in time.
Despite my experience last time, I still really liked the idea of Bountiful Baskets. Since I having been trying to work more fruits and vegetables into our meals, I decided to give it another shot last week... and loved it!
I think the key is to plan your meals ahead of time and stick to it. The reason I didn't like it last time ended up being one of the reason I like it more this time around. It's a fun surprise to see what you get in your basket and learn new recipes.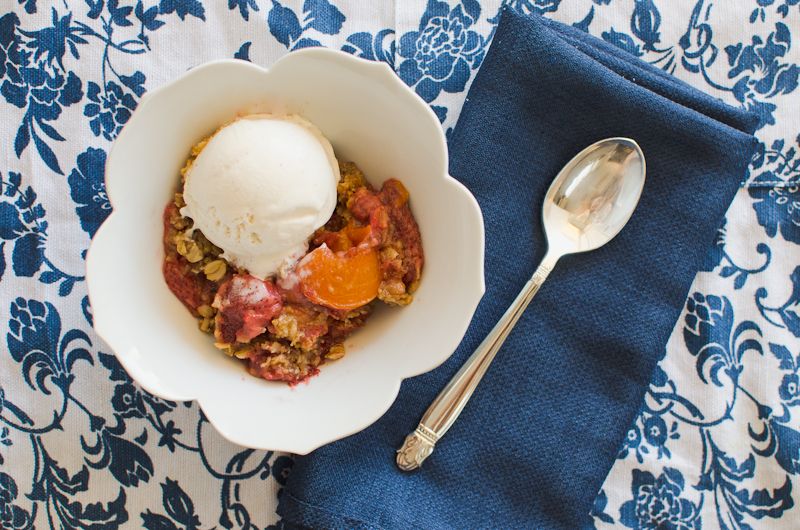 We got lots of perfectly sweet and ripe peaches that were delicious the way they were, but it was clear that we wouldn't eat them all in time. I decided to make a fruit crumble with the peaches and a pound of strawberries that also came in the basket.
The result was a sweet and tart crumble, paired perfectly with a scoop of vanilla bean ice cream!
Peach Berry Crumble
1 stick of butter, cubed
1 cup all purpose flour
3/4 cup rolled oats
1/2 cup brown sugar
1/2 cup granulated sugar
1 tsp cinnamon
1/2 tsp nutmeg
1/4 tsp salt
4 peaches, sliced
1 pound strawberries, sliced in half
1 tbsp lemon juice (optional)
Preheat oven to 350F. Mix dry ingredients, set aside. Toss fruit with lemon juice and additional sugar to taste, add in 2 tbsp of dry ingredients and toss, then place in baking dish (I used a 2-quart dish). Mix butter and dry ingredients with your hands until crumbly and butter cubes are the size of small pebbles. Top fruit with the mixture and bake for 40 minutes.
(Depending on how full your dish is, you may want to place a cookie sheet under your baking dish to prevent the fruit from bubbling over. I did, but ended up not needing it.)
Ice cream is a must. Enjoy!