My mother is a wonderful cook. Everything she makes is comfort food to me. Mapo tofu, stir-fried spinach, red-cooked pork... warmth for my belly. She has no use for measuring cups and spoons because she just adds ingredients and spices until it's "about right." Sometimes it's frustrating to ask her for recipes because it's always "now pour in some soy sauce" and "add sesame oil until it smells right."
Today is Chinese New Year. Last night I was missing home because we'd normally have a big feast to celebrate the new year. Since Joel and I didn't plan anything, I decided to make some Chinese almond cookies. I thought it was ironic because while my mother is a great cook, she has no use for the oven. I don't think she's ever baked anything in her life. The oven is just extra storage space. Chinese families don't have the tradition of baking like many American families.
But that's how I found myself growing up -- in between two worlds, hanging on to Chinese traditions while assimilating into American culture.
I actually do have memories of these almond cookies from my grandmother's house. New Year's is the one time during the year where there would be lots of sweet treats in the house -- all store-bought, of course.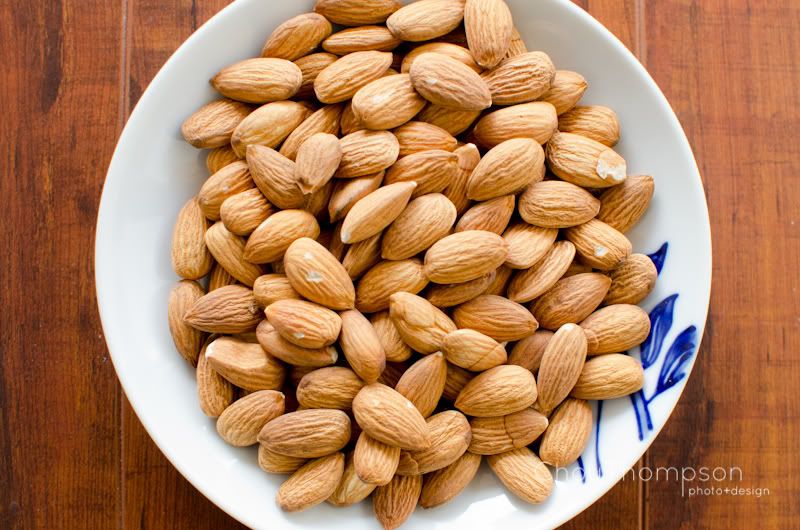 Chinese Almond Cookies
Adapted from Cooking for Engineers
Makes about 30 cookies
3 cups all purpose flour
1 teaspoon baking soda
1/2 teaspoon salt
1/2 cup almond flour
1 cup sugar
2 eggs (1 is for egg wash)
12 ounces butter
1 ounce water
1 teaspoon almond extract
Blanched almonds for topping cookies
Preheat oven to 350 degrees.
Combine flour, baking soda, salt and almond flour in a bowl, set aside.
Cream butter and sugar until fluffy.
Beat in one egg, water and almond extract until combined.
Mix in flour mixture until a soft dough forms.
Spoon out cookie dough and roll between your palms to form 1-2 inch balls. Place on parchment paper lined cookie sheet.
Press an almond into the top of each cookie.
Beat one egg in a separate bowl for egg wash. Brush the egg wash over each cookie. This will give cookies that glossy, cracked top.
Bake for 15 minutes. Let cool on wire rack. Enjoy!